2022 Advocacy Summit: The Power of Our Voice
The global pandemic that gripped the world a couple of years ago has eased by some measures. But food insecurity continues to be a concern – both in the U.S. and abroad. The end of emergency COVID benefits and food inflation are preventing many families in the U.S. from having enough to eat. At the same time, the world is facing a worsening hunger crisis – exacerbated by rising food prices and the invasion of Ukraine.
On June 6 and 7, Bread for the World hosted its annual Advocacy Summit in Washington, D.C. We carried our collective voice through the halls of Congress to advocate for policies that address hunger and give struggling families in the U.S. and around the world a chance at a healthy and prosperous life. 
2022 Advocacy Summit Videos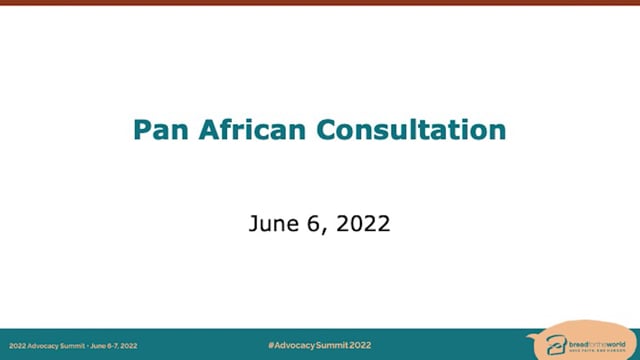 Day 1 | Pan African Consultation
Day 1 | Opening Worship
Day 1 | Welcome Message
Day 1 | Worship Session
Day 1 | Keynote Presentation
Day 2 | Opening Devotional
Day 2 | Panel Discussion
Day 2 | Legislative Briefing
All videos in this playlist...